Supply of dolomite bricks
Dolomite refractory bricks are widely used in the steel industry. They are mainly composed of magnesium oxide and calcium oxide CaMgO3 and have a high degree of purity, which makes them particularly suitable for high temperature applications. Dolomite bricks have several advantages, including high refractoriness, improved thermal shock resistance and better corrosion resistance. In addition to the steel industry, dolomite bricks are also used in a variety of other industries, such as the cement and ceramic industries. Dolomite bricks can be a cheaper alternative to magnesite bricks.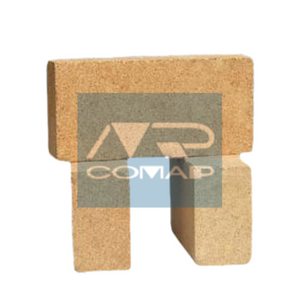 The advantages of using dolomite refractory bricks in a variety of industries
Due to their high magnesium oxide and calcium oxide content, dolomite bricks are especially resistant to heat and abrasion. As a result, they are commonly used in high-temperature applications such as furnaces and glass factories. Dolomite bricks are an important element in many industrial processes and can offer several benefits to companies.
Physical properties of dolomite brick
Dolomite bricks, from the basic refractory family, have several physical properties that make them suitable for use in a variety of industries. These properties are as follows:
High melting point: over 1650°C
Good thermal shock resistance
Excellent corrosion resistance
Good slag resistance
High bulk density
The different types of dolomite bricks available on the market
Different types of dolomite refractory bricks are available on the market, among which we can distinguish green dolomite bricks, fired dolomite bricks and tempered dolomite bricks. 
Each type of dolomite brick has its own advantages and disadvantages, so it is important to choose a dolomite brick that is suitable for its use.
COMAP SAS is one of the leading suppliers of refractory products to the steel industry in France. We offer a wide range of products to meet our customers' needs and our experienced team can help you choose the right products for your applications. If you are looking for a reliable partner in the steel industry, COMAP SAS is the right choice. Contact us today to find out more about our products and services.