Copper ingots, with different surface wear alloys, are used in continuous casting in steel mills.
The copper ingot is one of the most important components of the continuous casting process. Indeed, it has an important role during the steel solidification process in avoiding internal and surface defects and in shaping the steel to the desired curve during casting. 
It is important to select the right grade of copper ingot taking into consideration all the variables that can affect the production and quality of the steel. 
We can offer all types of ingots according to drawing and application requirements.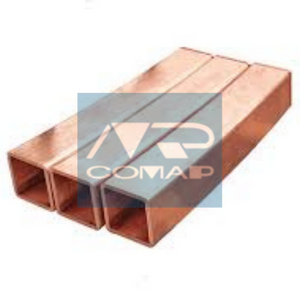 COMAP SAS is a supplier of consumables, including copper ingots, with over 40 years of experience. We provide high quality, durable products that meet the needs of our customers. Our products are used in a variety of applications, including the production of steel, aluminum, and other metals. We remain focused on providing the highest quality products and services to our customers. Working closely with our customers, we understand their specific needs and requirements. In addition, we offer a wide range of after sales services. We aim to provide our customers with the best possible experience, from the initial purchase to the conclusion of the product life cycle.
Our team is at your disposal for any information you need regarding our products and services, please feel free to contact us.