Gouging electrodes for the steel industry and welding
There are various gouging processes for the steel and welding industry, including Arc-Air gouging, which involves the use of carbon gouging electrodes coated with a copper film for current transfer combined with a compressed air jet. This technique allows the metal to be melted by the electric arc from the end of the electrode to the part, and then the molten metal to be ejected using compressed air. The voltage of the arc as well as the current supplied depends on the diameter of the gouging electrode. This article gives an overview of the most common applications of gouging electrodes and their advantages. 
Applications of gouging electrodes for steelmaking and welding
Gouging electrodes can be used to melt all types of metals and are therefore used in many applications such as:
Removing defective welds 
Removing metal build-up in foundry castings 
Preparing joints before welding 
Removing cracks before welding 
The two most used gouging methods are arc-air gouging, using gouging electrodes, and plasma gouging.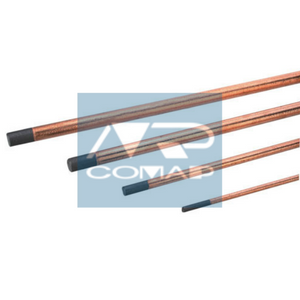 The advantages of using gouging electrodes
Using the arc-air gouging process has many advantages. Gouging electrodes permit rapid melting and removal of metals with low energy consumption.
Gouging electrodes are very easy to use and, provided that the correct PPE is used, guarantee the safety of the users.
We have been specializing in the import-export of products for the steel industry for over 40 years. We have a wide range of products, including arc-air gouging electrodes, which are machined and manufactured using the latest technology. Please feel free to contact us, our team is at your disposal for any information about our products and services.