Supply of magnesia bricks for industry
Magnesia brick is a basic refractory composed of 87% to 99% of magnesium oxide. It is one of the most popular refractory materials and finds use in a wide variety of industries. It has several advantages over other refractories, including good thermal shock resistance, high mechanical strength and resistance to temperatures up to 1750°C. Its low thermal conductivity also makes it an ideal basic refractory for steelmaking.
The different types of magnesia bricks
Magnesia bricks can generally be classified into two categories, tempered magnesia bricks and burned magnesia bricks. 
Tempered magnesia bricks, which is chemically bonded and can be doped with antioxidants, generally contains more than 95% magnesium oxide, enriched with graphite, are more resistant to thermal shock, and in the case of use in the steel industry, tempered magnesia bricks will be more resistant to contact with molten steel and liquid slag. 
Burned magnesia bricks can be doped with chromites and contain between 87% and 95% magnesium oxide.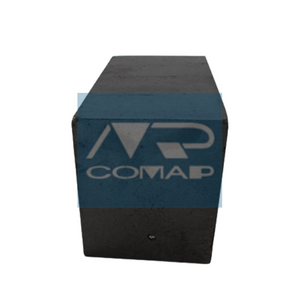 What are the applications of magnesia bricks?
Magnesia bricks are used in the following applications:
Walls and bottoms of electric arc furnaces
Melting furnace for the glass industry 
Lining for rotary cement kilns
Tunnel kiln lining 
Lining in non-ferrous metallurgy furnaces 
Lining for oxygen converters 
Open hearth furnace for the steel industry 
Properties of magnesia bricks
Using magnesia bricks can have several advantages: 
high thermal conductivity 
High temperature resistance 
Good thermal shock resistance
Resistance to alkali slag erosion
Low thermal expansion 
It is important to choose quality magnesia bricks appropriate to the application.
COMAP was founded in 1979 and is now a reference international company specializing in the import and export of magnesia bricks. Over the past 40 years, COMAP has developed an extensive network of producers and customers around the world and has built a reputation for reliable quality and service. Today, COMAP supplies magnesia bricks to many customers around the world, and its products are used in a wide range of applications. COMAP also provides technical support and consulting services to its customers. Please feel free to contact us today if you are interested in obtaining information regarding our products.