Foundry sleeves are an essential part of the metal molding process. They are used in the mold at strategic points to keep the metal fluid and homogeneous, and to prevent the metal from cooling too quickly in specific areas of the piece being molded. This prevents the formation of structural defects and cavities, thus ensuring a final product of the highest quality. In addition, foundry sleeves help to distribute the heat of the molten metal evenly, which allows the casting to cool down evenly. Without foundry sleeves, it would be impossible to produce high quality metal castings. Therefore, casting sleeves are essential in the metal casting industry.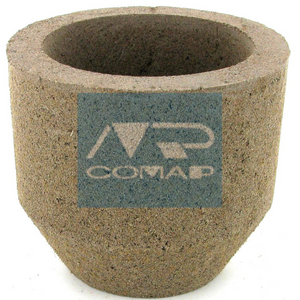 Exothermic and Insulating Sleeves for foundry
Exothermic and Insulating foundry sleeves which provide heat and then insulation are used on all types of complex casting parts to be made. There can be many sleeves of varying sizes in a mold depending on the complexity of the part. Exothermic type sleeves have a small internal volume, high performance for optimum quality and optimum efficiency. There is a wide variety of sleeve sizes to suit the part complexity and mold size.
COMAP SAS is a company specialized in import-export for more than 40 years. Our main products are consumables for the steel industry. We have built strong relationships with our customers and producers. Please feel free to contact us.