Torque wrench for graphite electrodes
Torque wrenchs are used to clamp graphite electrodes to the furnace column. For many years, operators had to use heavy and heavy torque wrench to meet the manufacturer's tightening specifications. Today, torque wrench, pre-set with the manufacturer's recommended clamping force, improves the working conditions of operators, and prevents clamping errors, thus increasing the energy efficiency of electric arc furnaces, and reducing the loss of electrode sections to the liquid bath.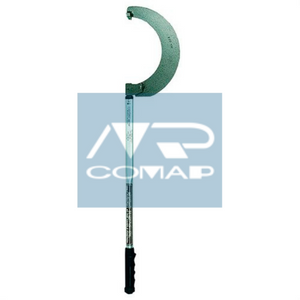 We are COMAP-SAS, a company that has been specializing in the import and export of graphite electrodes and torque spanners for over 40 years. In close cooperation with our manufacturing partners, we can supply a pre-set torque wrench with the tightening force recommended by the manufacturer. We are constantly working to improve the quality of our products to satisfy the needs of our many customers worldwide. We have a large range of products, if you would like to know more about our company or our products, please do not hesitate to contact us.