Supply of vibrated molded graphite
Vibrated molded graphite, also known as vibrated moulded graphite, is made from grains of graphitized coke molded by vibration. This process enables the raw materials to be compressed into homogeneous rectangular or round blocks. 
Vibrated molded graphite can be used to produce large parts. With a lower density than isostatic graphite, it can be the perfect and cost-effective solution if high strength is not required. Its structure is homogeneous and its properties almost isotropic. Vibrated cast graphite has a low ash content. 
Properties of vibrated molded graphite
Vibrated molded graphite is used for the following properties:
Low coefficient of thermal expansion 
Good thermal conductivity 
High thermal and chemical resistance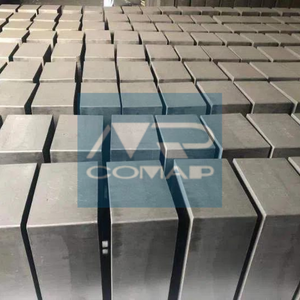 What are the applications of vibrated molded graphite?
Furnace parts: heating elements, plates, linings, heat shields and others on plan
Anodes and cathodes
Parts for heat exchangers
Crucibles for melting and reduction
Molds 
All other shaped parts according to drawing
COMAP is a company specialized in the import-export of graphite materials. We are based in France and ship our products worldwide. We also offer isostatic graphite, molded graphite, extruded graphite, and all graphite processing parts. Feel free to contact us for more information!