Supply of extruded graphite
Extruded graphite is obtained by pressing graphite grains mixed with pitch or other binder, then baked, impregnated, and graphitized under strict control. The grains used in the production of extruded graphite are about 10 times larger than the grains used in the manufacture of isostatic graphite.    
Properties of extruded graphite 
Extruded graphite has several properties that allow it to be used in a variety of industries: 
High density
Mechanical strength
High thermal and chemical resistance 
Good thermal and electrical conductivity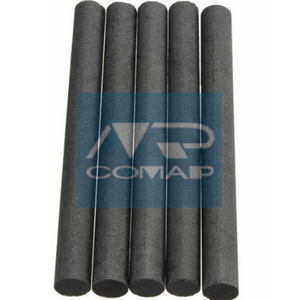 Applications of extruded graphite rods
Due to its many properties, extruded graphite can be used in various applications such as:
Manufacture of graphite electrodes
Heating elements 
Protective tubes 
Molds
Crucibles
Shaped parts on plan
Extruded graphite is used in the following industries: metallurgy, energy, glass, ceramics, and others.
COMAP SAS is a company specialized, among others, in the import-export of graphite materials. We have many years of expertise in this field and have established strong relationships with customers and manufacturing partners around the world. We can supply products at competitive prices with strict quality control.
We also offer isostatic graphite, vibrated molded graphite, molded graphite, and all graphite shapes. Feel free to contact us for any further information.